Class Teacher: Miss Scutt
Teaching Assistants: Mrs Turner (Monday and Tuesday).
We have lots of interesting and exciting things to learn this half term. Please look below to find information on the Class 4 curriculum, activities, timetable, spellings and homework.
Our Learning Challenge question this half term is 'How would we survive without water?' and our class text is The Wind in the Willows by Kenneth Grahame.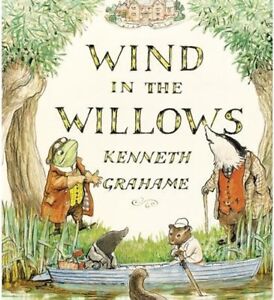 Homework, Spellings and Activities
Homework
Homework books are sent home on Wednesday and expected to be returned to school on each Monday. Children should complete one homework task, of their choice, from the menu each week. If your child struggles to complete their homework at home they can attend a lunch time homework club on Wednesdays. We have recently signed up to timestable rockstars... it would be great to see children accessing this at home.
There will also be activities set on My Maths, DB Primary and Spelling Shed, which the children can choose to complete to develop their skills and learning at home.
Spellings
Spelling lists will be sent home every Monday and the children will be tested on the spellings from that week on the Thursday. Children are expected to practice their spellings at home in preparation for the test. The spelling journal has a 'Look, Cover, Write, Check' grid for children to use when practising. Please bring your spelling journal to school everyday. You will need this for our spelling lessons. You can also use the DB Primary website and Spelling Shed to practise your spellings at home.
Physical Education
Physical Education lessons will take place on a Monday and a Tuesday. On Mondays we will be learning stiking and fielding with Miss Scutt and on Tuesdays we will be having rugby lessons with Widnes Vikings. Please note that some P.E lessons may be outdoors.
Children are expected to have full P.E kit in school for both sessions and suitable outdoor clothing for any lessons which are outdoors. If the weather conditions are poor P.E will take place in the school hall.
Indoor: white t-shirt, navy shorts, white socks, black plimsolls.
Outdoor: white t-shirt, navy jogging bottoms, school hoodie, white socks, trainers.
Reading Records
Reading books and a signed reading record should be brought into school daily. Children will earn praise points if they read every night and if their reading record is signed. We read daily after lunch time so it is important that the children bring their book into school to read at this time.
Gospel
Class Four are participating in Gospel singing this year, every Friday morning. Our wonderful teacher, Mel, is teaching us how to perform and show off our voices. A quick reminder, our Gospel performance is on Monday 1st July at the Liverpool Anglican Cathedral.
Attached are the following documents: timetable, half term overview with homework menu and spelling lists. Also, please follow our class 4 facebook page which is @class4thebrow for updates and pictures of our learning.
This half term we have spent lots of time outdoors exploring the environement. The reason for this is we have been learning about animals and their habitats. We had a very exciting day at Norton Priory were we completed a minibeast hunt and a pond dipping session. We have also investigated the impact of plastic pollution and deforestation on endangered species. In P.E we have been learning athletics and developing our running techniques in preparation for sports day. We have been working very hard in Maths learning about time, measure and money. The children have made fantastic progress in their basic skills challenges.
What a busy term! We have taken part in so many activities and completed so much work. In topic, we have explored Ancient Egypt and we used modelling clay to create Egyptain jewellery. We have had visits from our local PCSO to discuss bullying, guides from chester zoo to discuss animal care and also a science technician from Lego robotics. During Science week, we investigated journeys and we particulary enjoyed investigating how snot travels. In Maths, we have excelled in learning about decimals and we now know our tenths and hundredths. We look forward to new learning next half term.
This half term, the children have worked hard to improve their writing skills, learn about fractions in maths and explore urban areas. The urban area we focussed on was Liverpool, which is why we decided to get the train to the city. We really enjoyed this trip to Liverpool and being a part of the Alice show. We have also developed our business skills by raising £59 during enterprise week. Finally, we had a visit from our local PCSO who explained the importance of being safe online. We explored our digit footprints and ways of keeping safe.
In Autumn Term Two the children have enjoyed many experiences including Gospel singing, learning about the digestive system and a trip to Chester Zoo. In English, we have learned how to punctuate direct speech sentences correctly and in Maths we have developed our times table speed. We also made Pizzas! A big focus has been exploring our thoughts and changing our negative thoughts into positive thoughts in order to improve our well-being.
In Autumn Term One we have worked incredibly hard and many children visited Mrs Webb to show their excellent work. In English, we have developed our undestanding of fronted adverbials and prepositional phrases. In Maths, we are now able to add and subtract 4 digit numbers by using equipment and formal methods. We have also extended our understanding of the world by exploring parliament and holding our own debate. In Art, we have created Roman mosaics and in history we have explored why the Romans wanted to invade Britain.
This week the children participated in well being activities to help their minds relax and focus on the environment around them. Here are some photos of when we practised our deep breathing by blowing bubbles.
The children have had a fantastic start to the year already and have earned 16 class points this week for their excellent reading at home, behaviour in school and academic work. This week we have focussed on the presentation of our work making sure our handwriting is our best and we are setting out our work correctly. In Maths, we have been exploring four digit numbers and understanding what each number represents (take a look at the pictures below). In addition, we have explored our feelings about year 4 and identified what has gone well so far. Keep up the good work Class 4!